---
Be Sure To See My Low Priced
Thermostat Store (Lowest On The Web)
---
How to wire a thermostat. To wire a thermostat, you must first be aware of the type of system that you have in your home. A large majority of homes today have an HVAC system containing a Furnace (Oil, Gas or Electric) and An A/C Unit. The thermostat wiring on these systems can have very similar wiring properties. But what if you have a system that's a little different like a Heat Pump System, Then your thermostat is going to be wired a little different as well.


First and foremost when you go to wire a thermostat, if you have any doubt of the type of HVAC system you have and are uncomfortable with wiring, then I highly recommend using a qualified HVAC service technician to complete your task. This could save you a lot of unnecessary expenses in the long run.


Now the thermostat circuits I will be covering will consist of the two scenarios I mentioned above. But an important issue here is that the diagrams and wiring color codes are going to be the most common standardize method. Always keep in mind that who ever wired your thermostat may not have followed these procedures and your color codes will not match the following examples. You will have to determine this before you start disconnecting any of your thermostat wiring.


I would highly recommend that you write down what color wire is going to which terminal. This way if your color codes don't match the normal code as the chart below indicates, you can still get a good idea of which wire should go where on your new thermostat.


If you're changing your old style thermostat to a programmable type, then most HVAC systems are compatible and will work just fine with a programmable unit. But in the case of a Heat Pump system, You'll really have to do some research to verify that the programmable thermostat will work. Heat Pump systems work entirely different from standard HVAC systems and require more circuits.

The following is a chart showing the most common terminals and their respective color codes and what that particular wire is used for in the circuit. Now most thermostat's will not have all of these termination points but the chart will help you determine color code and connection points for your particular unit.



---
The diagram below shows how a basic 4-wire thermostat is connected as indicated by the color code chart above. The basic Heat + A/C System thermostat typically utilizes only 5 terminals.

RC - Red Wire (Power 24 Vac)
RH or 4 - Red Wire Jumpered (Power 24 Vac)
W - White Wire (For Heating Enable)
Y - Yellow Wire (For Cooling Enable)
G - Green Wire (Controls Fan ON-Auto)


The diagram shows how the wiring works. However your connections may seem a little different on the thermostat itself. Just take a look at the picture below the diagram. The RED wire or 24 Vac power lead is connected straight to the RC & 4 terminals. Some thermostat units have a dedicated R terminal and it jumpers to the RC, RH or 4 terminals internally. The W, Y and G terminals should be pretty straight forward on most all types of thermostat's.

The following image is one of the most popular scenarios today. This type thermostat is relatively easy to connect or change over to a programmable type thermostat. As mentioned in the previous paragraph, the only difference might be the lack of an "R" connection.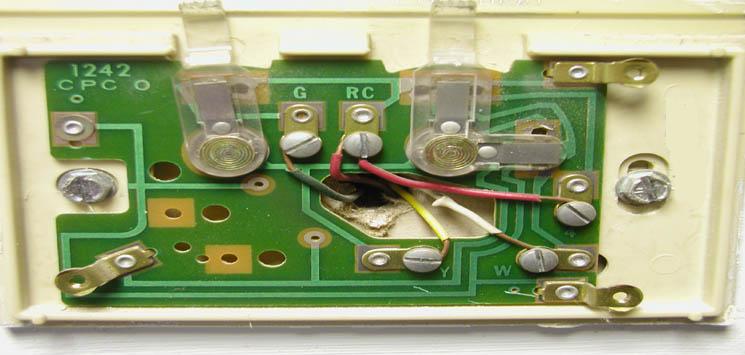 Now the following image here represents a heat pump system thermostat. These types systems are more involved because of the components associated with the system. Color codes may be different from one household to another, but generally the concept should be the same. It's going to take a little research on the owners part to declare what is involved with your heat pump system and verify proper color codes. If you're changing a heat pump system thermostat to a programmable thermostat, be sure that the new thermostat is compatible with your style of system. Once that is verified, the owners manual should be informative enough to complete the change over very easy.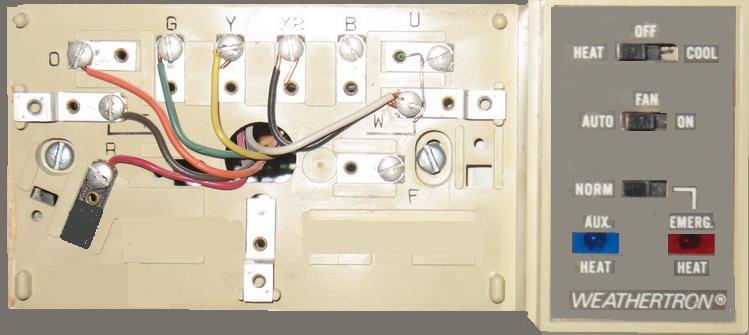 Be sure to check out my Thermostat Store for great bargains on all types of thermostats.

A programmable thermostat can save you as much as 60% off your heating bills. I know it for it a fact.
Click here if you feel the need for a Qualified HVAC Service Technician.
Watch this video for assistance on upgrading or installing a programmable thermostat